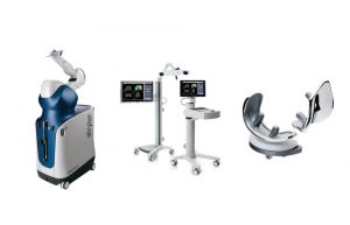 Using Mako™ robotic assistance in partial or full knee replacement surgeries is a technological revolution. There are several clear benefits over traditional approaches that suitable candidates will enjoy. Dr. Frederick F. Buechel, Jr. MD is a leading orthopedic surgeon in New York who can offer superior outcomes using advanced techniques.
Some of the issues with traditional knee replacement options include implant failures, lack of precision and restricted range of motion. Many of these problems can be addressed with the Mako robotic system.
Precision Resurfacing & Implant Placement
The first benefit to consider is the precision afforded by the Mako robotic system. Dr. Buechel can map the areas of the joint that are suitable for resurfacing or artificial components using 3D imaging technology. This level of precision is not possible with traditional methods, which often results in patients missing out on a viable surgical option.
Due to the precision of the procedure and subsequent placement of implants, patients typically enjoy better range of movement. The knee replacement is designed to work just like a healthy joint, and includes a plastic implant that acts like cartilage.
Faster Recovery
When you opt for Mako robotic knee replacement, faster recovery is a common benefit. There are a range of knee conditions that are suited to robotic knee replacement. At his New York offices, Dr. Buechel can provide a comprehensive consultation to assess your needs.
Some joint conditions are manageable with a conservative treatment approach that may include medications and physical therapy. However, when partial or full replacement is the most viable option, you can trust the skills and extensive experience of Dr. Frederick F. Buechel, Jr. MD.
If you would like to know more about Mako robotic assisted knee replacement surgeries, call our offices today at 212-308-3089. We look forward to helping you on your road to fully restored mobility.