Knee Arthroscopy
What Is A Knee Arthroscopy?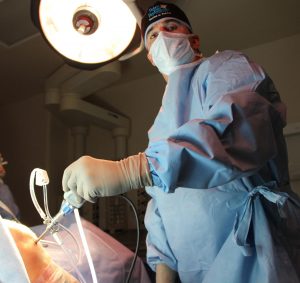 Knee arthroscopy is a surgical procedure that places a small joint camera (an arthroscope) and small tools and devices (arthroscopic shavers, burrs, punches, knives, scissors, sutures, sutures with bone anchors) into the knee joint using very small incisions, to look into all three knee compartments and treat injuries or remove tissues inside the knee.
The arthroscope is a metal tube with a camera and light at its tip that goes into the knee, and a control module at the hand piece end where focus, camera angle and picture taking is controlled. The arthroscope is connected via a cable from the hand piece to a display monitor and image capture device where images can be digitally stored and printed to share with patients. The arthroscope is about the diameter of a pencil and about a foot long.