Robotic Partial Knee Replacement Surgery Guide
Introduction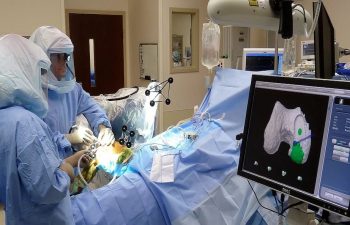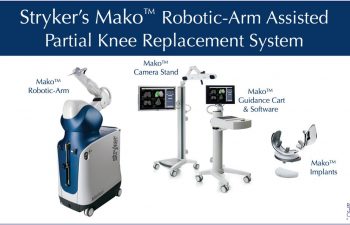 Mako™ Robotic-Arm Assisted Partial Knee Surgery is the most consistently, reproducible, precision joint replacement installation system available in the world today. Dr. Buechel is an expert user of this Mako™ system. He understands which patients are best suited for this procedure and he has an international surgical experience of over 1,000 robotic procedures, successfully operating on people from all over the world. This vast experience allows him to optimize each person's knee implant installation, which improves the implants function & longevity, while creating the most "natural feel" for the patient.
After their procedures, Dr. Buechel's patients are walking the day of surgery. Most patients are off prescription pain medications within days, and they feel better than before surgery often in just 2-4 weeks. This rapid return to function is the result of Dr. Buechel's attention to every detail, and meticulous management of the knee and surrounding tissues during the procedures.
Patients will often start their process with a complimentary online consultation prior to proceeding with their office visit. This process is ideal for those out of the area that will eventually be traveling to see Dr. Buechel for their office visit and scheduled procedure. Prior to the procedure, patients are seen for their in person, comprehensive office visit. Once confirmed in the office that a patient is a good candidate & properly indicated for the procedure, their preoperative planning CT scan is obtained and the procedure is confirmed as scheduled.