Robotic Total Knee Replacement Surgery
What Is A Total Knee Replacement Surgery?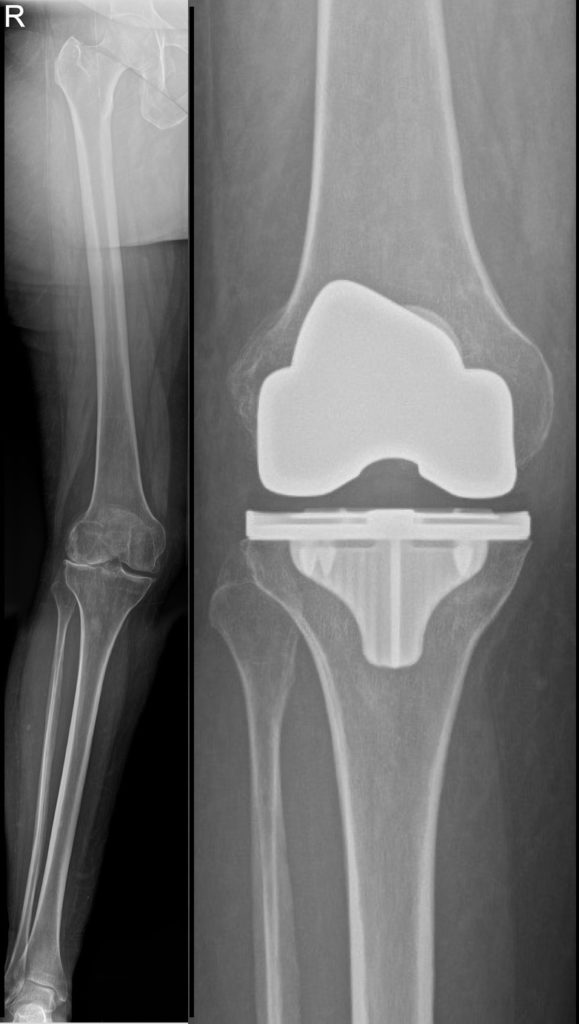 A Total Knee Replacement, "TKR" (also called Total Knee Arthroplasty, "TKA") is performed to replace the worn down or damaged knee joint surfaces in all three compartments of the knee that are causing pain with weight bearing activity. The damaged joint surfaces on the end of the femur (thigh bone) and top of the tibia (shin bone) are replaced with new surfaces called implants, usually made of metal alloys of cobalt chrome and titanium, and a ultra-high molecular weight polyethylene plastic insert bearing. The insert is installed between the metal parts and acts as the cushion, creating a low friction joint surface.
The surgical procedure is performed through a straight skin incision on the front of the knee and a deep incision entering into the joint that allows the ends of the femur, tibia and kneecap to be exposed. This allows all 3 compartments, the medial on the inside, the lateral on the outside, and patellofemoral compartment in the front to be replaced with the new knee replacement implants.
In order to place the new implants on the bone surfaces, the worn bone surfaces have to be cut and shaped to accept the implants properly. The proper sizing, position, rotation and alignment of the implants for each individual must be carefully performed to provide the optimal outcome, feel, pain relief, range of motion, alignment and longevity of the new knee replacement. This process can be performed with conventional cutting guides, tools and saws. Or, it can be done with highly advanced technology like the Mako™ Robotic Total Knee Installation System that Dr. Buechel uses.
Once the bone is properly prepared to receive the implant, the parts are attached to the bones. Implants can be attached to the bone either with bone cement, or without cement, called cement-less. Cement-less implants have a special surface that allows the bone to grow into the metal, biologically attaching the implant. Cemented implants use polymethylmethacrylate bone cement which acts as a grout to attach the implants to the bone surfaces and hardens within minutes once mixed during the procedure. Both fixation options have similar long term success rates.
Once the surgery is completed, patients either go home, stay in the hospital for a night or two, or go to a rehabilitation facility based on the surgeon's technique, their medical conditions, pain control and function. Total knee replacement patients will undergo physical therapy after their surgery for several months working on range of motion and strengthening, until they are able to get back to their own exercise programs.
Knee replacements done properly and without complications, can last several decades and provide significant pain relief and function, returning patients back to an active lifestyle.