Insurance
At the Robotic Joint Center, the office of Frederick Buechel Jr., MD, we are extremely proud of the time, attention, and service we give to each patient, and the feedback we receive is always positive from the care we give. "In-Network" insurance plans heavily limit the time a medical practitioner can spend with a patient reimbursing very little for top quality surgical and office care. As we often follow patients with knee conditions for many years, and for decades after knee replacement surgery, we feel more time is needed than what many "In-Network" plans provide for. Ultimately, we cannot provide a the high level of care we strive for by participating in the "In-Network" plans.
Patients do however, often have "Out-of-Network" benefits as part of their insurance plan where a portion or all of your treatment costs could be covered by your insurance provider. These are the best plans to have, and they do not limit your choice of top-quality physicians.
Please contact our office and we will be happy to check your benefits and let you know what patient responsibility you may have, and what may be covered by your insurance.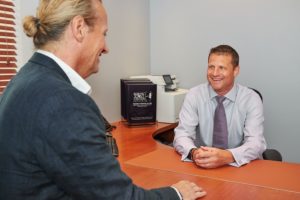 You can reach our staff Monday through Friday from 9 am to 6 pm. If you are not able to call, or it is after hours, you can submit your personal and insurance information to us via email and we will contact you back explaining what we can do for you.
Should you have any questions or concerns please do not hesitate to contact our office at 212-308-3089, or via email at info@RoboticJointCenter.com with attention to Tom, our office manager.
Thank you,
Dr. Frederick F. Buechel, Jr. MD and Staff