Torn Meniscus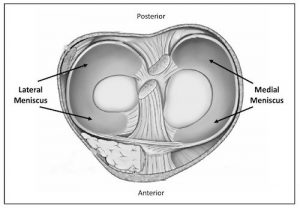 The meniscus is a tough, smooth, rubbery C-shaped piece of cartilage (fibrocartilage) that is wedged shaped and sits between the cartilage surfaces of the bones. It distributes your body weight more evenly across the knee joint and improves the stability of the joint. Each knee has two menisci, the medial (inside) and the lateral (outside). They attach to the top of the shin bone (tibia) and make contact with the thigh bone (femur). They act as shock absorbers during weight-bearing activities.
The front ⅓ is called the "anterior horn".
The middle ⅓ is called the "body".
The back ⅓ is called the "posterior horn".
The wedged shaped profile helps maintain the stability of the joint by keeping the rounded femur surface from sliding off the flat tibial surface. The meniscus is nourished by small blood vessels coming in from the outer edges (vascular zone). The meniscus also has a large area in the inner ⅓ that has no direct blood supply (avascular zone). Between these zones is an area where the blood supply is minimal.