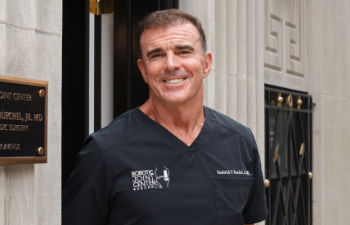 Outpatient Robotic Partial Knee Replacement at Lenox Hill Greenwich Village
Dr. Frederick Buechel, Jr. MD, Director of Robotic Assisted Knee Surgery at Lenox Hill Hospital is a pioneer in robotic-arm assisted partial knee replacement and performs medial, lateral and patellofemoral partial knees, as well as outpatient total knees at Lenox Health Greenwich Village. Dr. Buechel was an early adopter of this precision technology in 2009, and he has performed over 2,000 successful Mako robotic partial knee replacements in the USA and internationally.
For people with chronic knee pain that is limiting their activity from osteoarthritis, old meniscus tears, prior trauma, or osteonecrosis, Dr. Buechel's mini-incision robotic partial knee replacement process is life changing.
His patients limp into the surgery center and walk out without pain, the same day. Within just a week or two walkers or canes are not needed, and daily activities become comfortable. Within 3-4 weeks patients are feeling better walking around than they have for years. Most patients return to a very active lifestyle in just a few months with a natural feeling knee.
Dr. Buechel's partial knee replacement patients feel more normal than with a total knee, it is bone and ligament preserving, it is less painful, provides a better range of motion, easier recovery, faster return to work and play, tolerated better by older less healthy adults, has greater patient satisfaction, less complications, and keeps all the good healthy parts of the knee.
The knee has 3 compartments, and each can be replaced individually (a partial knee), or all can be replaced at once (a total knee). The. Partial knees keep all 4 ligaments (ACL, PCL, MCL, and LCL) which are important for normal knee kinematics and stability, and means the knee will flex and extend, translate, and rotate with the normal ligamentous constraints at work. This along with keeping all the healthy cartilage makes your knee feel more natural than a total knee.
Partial knees done properly for the right patients can last decades just like a total knee replacement, but they feel better.

Dr. Buechel's "Robotic Joint Center" at Greenwich Village is a Destination Center for medical tourism patients seeking out an experienced expert to perform these highly specialized, precision knee resurfacing procedures. Dr. Buechel sees patients at his office on the 6th floor for consultations. Digital x-ray Imaging is performed on the 5th floor prior to your office visit. MRI is available on site for more comprehensive evaluations when necessary. If a patient is fortunate to be partial knee candidates, our preoperative CT scan imaging is done on the 5th floor for unparalleled precision implant planning. When all the testing is complete, and patients are medically cleared for surgery, the Mako Robotic Partial knee replacement surgery is performed on the 4th floor in our state-of-the-art, ambulatory surgery center with a team that will make you procedure a success from the moment you enter, until the moment you walk out the door.
Call Dr. Frederick F. Buechel, Jr. MD today at (212) 308-3089, or email him at Info@RoboticJointCenter.com, and schedule an appointment for you, a friend or family member that is suffering from arthritic knee pain. You won't be disappointed in your experience.
1 Buechel, F. F., Angerett, N. R., Chen, Z., Vakharia, R. M., Marchand, R. C., & Mont, M. A. (2023). Mako™ Robotic-Arm Assisted Medial Unicompartmental Knee Arthroplasty: Surgical Technique from the Office to the Operating Room. Surg Technol Int, 42, sti42/1685. https://doi.org/10.52198/23.STI.42.OS1685