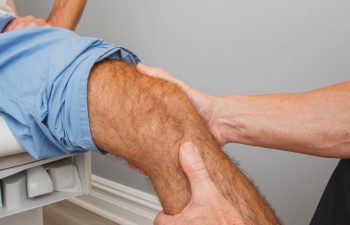 Knee injury and pain are a frequent reason patients visit their doctor. Basic remedies such as rest, ice, elevation and anti-inflammatory medication may be enough for minor problems. When there is acute trauma or chronic pain, patients usually need a specialist to assess the type of knee damage and determine how to correct it. Without repair, knee problems tend to get worse. This can lead to mobility issues, increased pain and poor quality of life. One of the most common procedures to assess and correct knee injuries is arthroscopy.
What Is Knee Arthroscopy?
Knee arthroscopy is a time-tested procedure used to diagnose and treat knee injuries. Your surgeon will make small incisions in different areas around your knee. Through these openings, they can insert an arthroscope. The arthroscope is a small metal tube with a camera and light. It is attached to an external monitor. This allows the surgeon to examine the inside of the joint, including the bone, cartilage and other supporting structures. Sometimes arthroscopy is limited to investigation and the images are later shared with the patient.
Often, the surgeon will perform other procedures at the same time, using the arthroscope to view what they are doing. Some procedures done through arthroscopy include smoothing bone surfaces, realigning dislocations and repairing ligaments.
Is Knee Arthroscopy Right for Me?
Surgeons consider many factors when choosing the best treatment plan for a patient. Before performing an arthroscopy, they will review your records and may order x-rays, CT or MRI scans. Lifestyle factors, age and whether an injury is acute or chronic are taken into consideration. Based on their initial findings, the surgeon may plan an arthroscopy for further knee examination, repair or a combination of both.
Although there are risks associated with the procedure, arthroscopy is considered less risky than open surgery. The risks of an arthroscopic procedure vary, depending on each patient's unique medical history. It is important to speak with your specialist to determine if knee arthroscopy is the right treatment for you.
If you have injured your knee or are experiencing chronic knee pain, contact Robotic Joint Center today for a consultation.