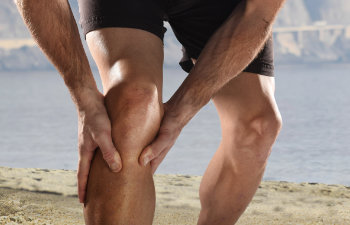 Did you know that an estimated 600,000 knee joints are replaced in the U.S. each year? The knees are very susceptible to injury, disease, and normal wear/tear, resulting in chronic pain and limited mobility, especially as you age. There are many conservative and non-surgical treatments for knee pain, but often these become less and less effective. If you are living with chronic pain caused by damage to the knee joint from arthritis and other factors, you may want to consider knee replacement surgery.
Who Needs Knee Joint Replacement?
Arthritis is an inflammatory condition that contributes to the deterioration of the joints. In the knee, there are three compartments that can become worn and damaged, usually resulting in loss of cartilage and bone. The friction caused by damage to the knee can cause extreme stiffness, pain, and loss of mobility. When conservative treatments like injections and medications no longer provide relief, knee joint replacement may be recommended.
Types of Knee Joint Replacements
Every knee joint procedure must be customized to the patient based on their specific knee deterioration. Different procedures can be used to repair or replace knee joint components, and various methods can be used. The types of knee joint replacement surgeries that we offer at Robotic Joint Center include:
Partial knee replacement
Lateral (outer) knee replacement
Medial (inner) knee replacement
Patellofemoral (front) knee replacement
Total knee replacement
Dr. Buechel is one of the world's most experienced knee replacement surgeons, specializing in robotic surgical procedures. He is sought to perform all types of knee joint replacements due to his vast knowledge and expertise, which obtain the highest success rates for his patients. When evaluating each patient, he will consider their lifestyle, medical background, and specific knee conditions to determine the best procedure for their circumstances.
When to Seek a Knee Replacement Consultation
Surgery is generally considered the last resort for any medical condition. If knee pain can be controlled with conservative treatments, it is usually recommended over surgery. However, when knee pain begins to interfere with your job, leisure activities, and overall quality of life, it may be time to consider seeking the advice of a skilled orthopaedic knee surgeon such as Dr. Buechel.
Why Choose Robotic Knee Surgery
Many knee surgeons still use open or endoscopic methods to replace knee joint compartments. While this method has been used for decades, it has its drawbacks. Robotic knee replacement procedures utilize advanced technology that can perform more precise and less invasive surgery. This can reduce the risks of complications and speed up the recovery process. When completed by one of the top robotic knee surgeons in the country, like Dr. Buechel, you can rest assured that you are in excellent hands for your procedure.
Robotic knee replacement surgery can give you your life back. If your mobility is restricted due to chronic knee pain from arthritis, contact our team at Robotic Joint Center. Call our office in NYC or Taiwan to schedule your consultation with Dr. Buechel.